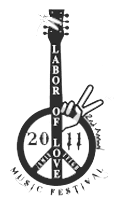 The 2nd Annual "Labor of Love Day" Music Festival, to benefit the American Foundation of Suicide Prevention, in memory of Jamie Leigh Wilson and all others lost to suicide and depression will take place from 11 a.m to 6 p.m., on Sunday, Sept. 4, at New Munster Park.
This year's festival promises to be a knee-slappin', jug blowin', slam dunkin' good time. Veterans, Mental Health Organizations, and retail vendors will also have booths set up for support, educational resources and fun stuff.
Last year, the festival joined forces with the Knights of Columbus and the Foundation for Suicide Prevention and businesses and raised $64,000. Of that, $43, 000 was donated to the foundation, to aide in their mission for awareness about depression and the prevention of suicide.
In addition, a goal of the organizers is getting information to the schools, so they in turn could better equip students and young adults, with information about and decisions regarding, depression and suicide. That money benefited the "More than Sad" program which produced two education films to be shown at public schools. These films inform school personnel about suicide risk factors, as well as educating students about depression and the importance of seeking help.
Depression continues to be one of the leading causes of suicide. It is the second leading cause of death for college students and the third leading cause of death among teens and young adults. It is estimated that each year, 24 million people suffer from depression, and close to 1 million people in the U.S. will make a suicide attempt; 34,000 will succeed.
AFSP is the only national not-for-profit organization that is exclusively at the forefront of many research, education, prevention and survivor initiatives.
Please contact Shannon Riley at (907) 299-7548 if you should have any questions or would like to make a donation. More info also available at www.laboroflovefestival.org
Note: "Labor of Love Day" Music Festival is a westofthei.com sponsor. — DH