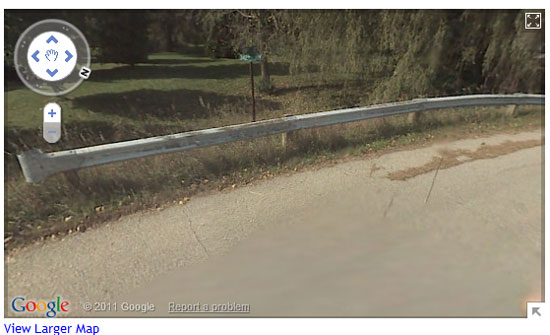 Above is a Google Maps Streetview of the guardrail at 342nd Avenue and 118th Street.

The Randall Town Board on Thursday approved a property owner's request to remove a guardrail along a town road in order to facilitate the building of a new home.
The guardrail is located at 342nd Avenue and 118th Street.
Supervisor Randy Kaskin said the Public Works Committee considered the request and was in favor of it. Why the guardrail was placed there in the first place was not known and some board members felt it was an atypical installation.
"That guardrail looks horrible for anyone that drives by," Kaskin said. "It's not maintained …"
Supervisor Mike Halvorson mentioned that the parts for the rail might be worth the town keeping for repairs to other rails. He asked that the parts be saved when the rail is dismantled. The property owner has agreed to pay for the removal.
Chairman Bob Stoll said his only concern with the proposal was whether the town was exposed to any liability by removing the guardrail. He suggested the town attorney be consulted.
A motion to allow the removal with the property owner paying and pending a review by the town attorney was approved unanimousily.

View Larger Map