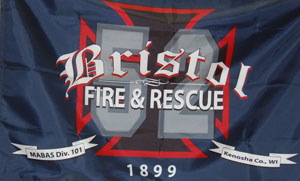 The Bristol Fire and Rescue Department has received the approval of the Village Board to apply for $100,000 in grants for new equipment.
If Bristol's grant proposal is approved in full, the village would need to pay $5,000, fire Chief Peter Parker said.
The grant would allow the department to acquire:
Replacement turnout gear.
An additional thermal imaging camera. The department currently has one such camera, but would like to have one on each of the three trucks that respond to fires, Parker said. The firefighters association also is raising money to buy one of the needed three cameras.
Two new heart monitors — one for each ambulance. The current monitors are about 10 years old and functional, but short on the latest enhancements, Parker said.
The money to pay the village's share could come out of the fund balance (savings) or a fund for fire department equipment, Kerkman said.
The department will not know if it has received the grant until late 2012, Parker said. Last year, the department did not receive an Assistance to Firefighters Grant, which is administered by the Federal Emergency Management Agency.