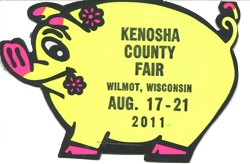 The music lover will have daily reasons to attend the Kenosha County Fair.
A variety of acts coming to the Creekside Stage should mean most everyone finds something they can tap their foot — or bob their head — to.
Here's the lineup and a little about each act:
Miss Behavin' — Wednesday, Aug. 17, 8 p.m. to midnight. The band's Facebook page describes them as " an extraordinary female-fronted, high-energy party band that covers 4 decades of the best Classic Rock and R&B."
The Toys — Thursday, Aug. 18, 8 p.m. to midnight. Their My Space pages lists the following as influences:3 Doors Down, Alabama, All American Rejects, Big and Rich, The Charlie Daniels Band, Collective Soul, Daughtry, Dierks Bentley, Electric Light Orchestra, Erasure, Fall Out Boy, Finger 11, Good Charlotte, Green Day, Jason Aldean, Jimmy Eat World, Joe Walsh, John Denver, Journey, The Killers, Maroon 5, Matchbox 20, The Outfield, Pink Floyd, Queen, Rascal Flatts, Red Jumpsuit Apparatus, Rednex, Rodney Atkins, Seether, Weezer.
Rebel Grace will appear on Friday, Aug. 19, 8 p.m. to midnight. Their website describes the band as the "Midwest's newest Country Band blending Original Music with all of your Favorite Country hits.
4 Lane Highway will appear Saturday, Aug. 20, 8 p.m. to midnight. The band features "rockin' country" according to its website.
Class of '62 will play on Sunday, Aug. 22, 2 to 4 p.m. This five-piece band bills itself as a Buddy Holly tribute and is becoming a fixture of the last night of the fair.
There also is plenty of music, in a variety of genres, at the talent show, on Thursday, starting at 6 p.m. at the Free Acts Stage near the fair office.