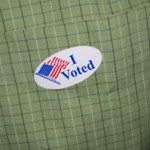 The recall election in the 22nd Senate District is tomorrow — but you probably know that already if from nothing else than the automated phone calls you likely have received!
The election will pit incumbent Bob Wirch, a Democrat, versus challenger and political newcomer Jonathon Steitz, a Republican. Both candidates live in Pleasant Prairie.
A recall effort was started against Wirch after he and 13 other Senate Democrats left Madison for Illinois — where they stayed for about three weeks — to avoid a quorum for a vote on Gov. Scott Walker's controversial budget repair bill last February.
Polls will be open from 7 a.m. to 8 p.m. Since this is a special election, all Salem voting will be at Town Hall.
If you're looking for some information about both candidates, here's our video coverage of a candidate forum from last Friday.
Note: We'll have results as they come in tomorrow. Check back often! — DH