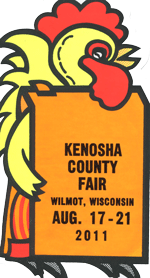 Judging for Kenosha County Fair Fairest of the Fair got under way tonight.
The six contestants are:
Keisha Berry, 19, of  Trevor.
Hannah Esch, 18, of Paris.
Lauren Vanderwerff, 20, of Salem.
Courtney Panek, 19, of Kenosha.
Renee Haney, 19, of Brighton.
Heather Edmonds, 20, of Randall.
This year's fairest of the fair will be crowned at one of the first big events of the fair on Wednesday, Aug. 17, at 9 p.m. The fairest and the court members will then preside over numerous events for the rest of the fair.
The Kenosha County Fair runs this year from Aug. 17 through Aug. 21.