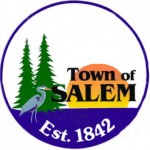 Elected officials in the Salem are dealing with some of the same questions homeowners have been asking for years. Where can we put our stuff and how can we protect the stuff we do have, from the harsh elements?
Town Supervisor Dennis Faber is hoping for additional space to store equipment for the Camp/Center Lake Rehabilitation District, and would like to pursue the option to purchase or rent of town land for the construction of a storage building.
"The building we lease now is not big enough for anything but our trailers," he said. "Our other equipment is valued at about $100,000 in replacement costs. The weather hasn't been good on the equipment and we thought if we can lease or buy some land and put up a storage building, it would help keep stuff out of the weather."
Ultimately, the new building would be large enough to store trailers, as well as three harvesters, a transporter and a shore conveyor.
"The harvester cuts the vegetation and is offloaded to the transporter, which is like a shuttle bus, and a shore conveyor which loads to a dump truck," said Faber. "These are expensive parts and if they sit all winter, we have to keep replacing parts."
While Faber and Town Administrator Patrick Casey have no property in mind yet, they needed the Board's approval to move forward to search for a location, and to determine if the Camp/Center Lake residents are interested in exploring this avenue.