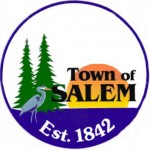 After more than a year without a Utility Engineer, the Town of Salem voted to approve Strand Associates, Inc to help the town plan for its future.
The Town Board received more than ten applications from engineering firms and narrowed the selection down to four. According to Town Administrator, Patrick Casey, each of the four were qualified to represent the town.
"We evaluated each of them and then each gave a presentation to show how they would best fit the town's long term interest," he said. "Their presentations were excellent, but after review, we felt that Strand would offer the services we needed to grow."
While the board unanimously approved Strand Associates, a national firm whose local offices are based in Madison and Milwaukee, Casey explained that the firm would not be involved in every aspect of the planning.
"We try to solve our own problems first and then call the engineers if we need to," said Casey. "And with the availability of email, aerial photography, pdfs and phone calls, we can do a lot of the work electronically and save money that way."