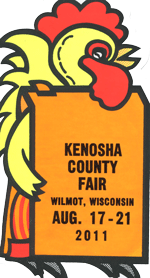 Fairgoers with talent can display their skills at the Kenosha County Fair.
The fair will host a talent show at the Free Acts Stage — one night only — on Thursday, Aug. 18, starting at 6 p.m. This is a change from previous years in which two shows were held.
The talent contests are open to amateurs ages 7 to adult. There are solo and group classes in each of the following categories:
Instrumental music.
Vocal music.
Miscellaneous.
There also is a special class for out of state groups.
Those interested in competing should contact the fair office for further information at  862-6121 or in writing at: PO Box 96, Wilmot WI 53192