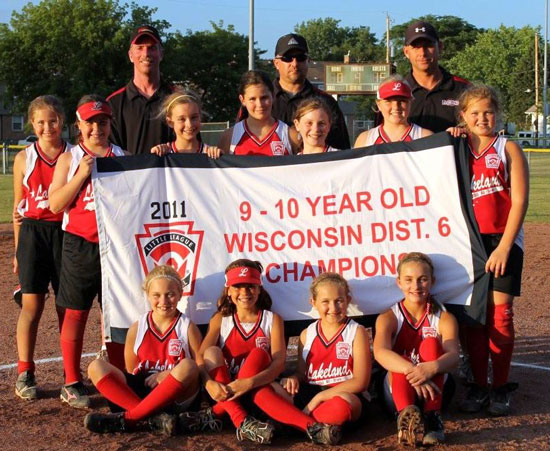 The Lakeland 9/10 Year Old Softball All Star team won the title of District Champs on Friday night. The team went 4-0 for the tournament. They started off by beating South Milwaukee 7-5 on Tuesday night. On Wednesday they pulled off an 18-7 win against Oak Creek in extra innings. Sydney Robson's bat was on fire with a single, 2 doubles, and a triple for the night. Friday night Kayla Kerkman pitched a shut out with the final being 15-0 against Franklin.
Team members are: Hannah Brendel, Becca Edwards, Sydney Robson, Danielle Gulliford, Andrea Edquist, Katie Barningham, Madison Zerr, Kendall Krumm, Riley Johnson, Chloey Menarek and Kayla Kerkman. The team is managed by Ryan Kerkman, assistant coaches are Mark Edquist and Jeff Grabarec.
The team will go on to play the State Tournament starting on July 28.