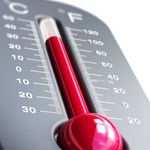 The National Weather Service has a heat advisory in effect from 10 a.m. today until 9 p.m. Thursday.
High temps today could be in the high 90s with heat index readings over 100. Dewpoints in the mid 70s are expected.
Looking out a bit, the forecast does not show any major relief from highs in the high 80s to low 90s and lows in the 70s until Monday when the forecast high is 80 and the forecast low 63.
Here's some heat information from the county Health Department earlier in the week, however much of the advice still applies.