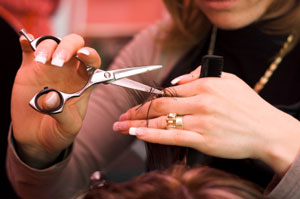 Five local hair salons are getting together to host a benefit that will get you a great haircut and help The Sharing Center at the same time.
The Hair Raising Good Time Rock n Roll Benefit will take place July 24 from 2 to 5 p.m. at Silver Lake Marina Bar and Grille, 28836 Silver lake Road (Highway F).
Stylists from the following five salons will be giving haircuts in exchange for donations to The Sharing Center:
Bristol Hair Shoppe.
Tracy's Hair FX.
Julie's Unique Salon.
Salon, Salon.
Gia's Salon.
Lisa Petges of Bristol Hair Shoppe said the event grew out of a conversation among some stylists about how to give back to the community.
But there will be more to listen to and enjoy then the sound of scissors flying. Music of the '60s and '70s will be performed by Hollywood Chalet. Other planned activities include raffles, food, beverages, face painting and rides around the lake.