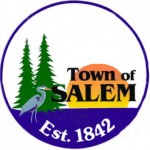 Utilizing some of the $773, 073 balance in the Park Fund, the Town acquired a seven-acre lake parcel along 104th Street in Camp Lake.
Originally operated as a restaurant, the property, including two buildings, and located next to a public boat launch, twice sold for $1 million and recently went into foreclosure. The town purchased the property for $370,000 utilizing existing impact fees.
According to Town Administrator, Patrick Casey, the parcel is one of the prettiest in the area, and the town was lucky to get it.
"We have to work on some drainage issues, and are deciding exactly what we need to do, but we will definitely do something with it," he said.
The money in the Park Fund is a result of impact fees associated with the construction of news homes. At the Annual Town Meeting, Tuesday, April 12, the electors voted 79 to 3 to grant authority to the Town Board to negotiate, and make purchases for land and/or development specific to parks using some or all of the $773,073 balance in the Park fund for a period of one year.
"When a house is built, the developer or homeowner has to pay a certain amount of money to construct the house, and the fees are to go towards park development," said Casey. "No tax money was used to purchase this land. According to state statutes, the funds need to be used within seven years or the money reverts back to the developer or homeowner, which would be difficult as many of the developers are out of business."