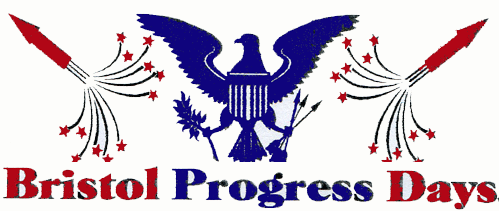 The biggest small town celebration in Wisconsin — Bristol Progress Days — takes place this weekend, July 8, 9 and 10.
For three days in July, Bristol in Western Kenosha County, becomes the site of good old family fun. Included in the annual festival are: sports tournaments, carnival fun, kids activities, music, history, the parade famous for the candy rained down on its spectators and fireworks on Sunday at sundown.
A day by day breakdown of the schedule is available here.
Bristol Progress Days first car show has been added to the line-up of activities for the annual community event. The car show will take place from noon to 4 p.m. Saturday at the Contact Rubber Parking lot, across from Hansen Park. There will be a $5 entry fee for the car show.  The car show will include a Queens Choice Trophy.
Also new this year will be a baggo tournament Saturday in the beer tent. Registration is at noon, tournament at 1 p.m. There will be 32 teams maximum with first come, first served. Bring your own partner. $20 entry per team.
Here's some of the fun at Bristol Progress Days:

CORONATION BANQUET — This year's Miss Bristol and the Outstanding Citizen announcements are made at the annual banquet held at the Parkway Chateau on Friday evening.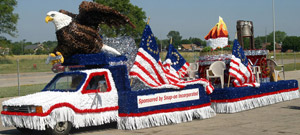 PARADE — The parade know for its large number of varied entries and its abundance of candy treats takes place starting at 12:30 on Sunday. The parade route works is way through downtown Bristol and ends at Hansen Park, where the other Progress Days activities are held. Make sure to bring a container for all that candy! Does your business or organization want to be in the parade? Contact LWadin@wi.rr.com
FIREWORKS — The annual fireworks display takes place at dusk on Sunday.
AUCTION — An auction with a live auctioneer will take place Sunday at 2:30 p.m. Make sure to check out and make your bids.
RAFFLES — Raffle tickets are available until afternoon of the parade on Sunday, July 10. Raffle Drawing is at 8:30 p.m. on Sunday. First prize is $500. Tickets are $3 a piece or two for $5. You can contact Carol at 857-2447 or LWadin@wi.rr.com for more information.
LIVE MUSIC — Bands will be playing all three nights of Bristol Progress Days. On Friday it's Mellencougar. On Saturday it's FLOOG. Sunday 4 Grand will be playing.
CARNIVAL — A selection of carnival rides will be on site throughout the three days.
SOFTBALL — A fast-pitch softball tournament will take place all three days.
YOUTH BASEBALL — Saturday and Sunday mornings will feature youth baseball tournaments.
KIDS FUN — Saturday is a special one for kids at Progress Days with a kids game area at 9 a.m. and pedal pull at 11 a.m.
VOLLEYBALL — A volleyball tournament will take place at Hansen Park on Saturday.
Need more information? Call 857-2447 or visit the Bristol Progress Days website.

View Bristol Progress Days in a larger map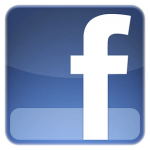 Join Bristol Progress Days on Facebook.