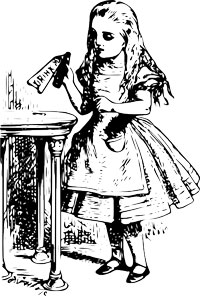 The Seno Woodland Education Center and Creative Outlets are pleased to present "Alice in Wonderland" Friday, July 15, Saturday, July 16 and Sunday, July 17. All shows are at 7 p.m.
This event is a fundraiser for the Seno Woodland Education Center; funds will go the the continued renovation of the barn.
Join Alice as she follows The White Rabbit down a rabbit hole and finds a small key to a door too small for her to fit. She discovers a bottle labeled "DRINK ME", the contents of which cause her to shrink too small to reach the key. Then a cake with "EAT ME" on it causes her to grow to such a tremendous size her head hits the ceiling. After shrinking down again Alice floats away on a river of tears and meets a blue caterpillar sitting on a mushroom, and the other inhabitants of "Wonderland", the Mad Hatter, The Cheshire Cat, Caterpillar, The Queen of Hearts, and the Mock turtle.
This will be an outdoor production and go on rain or shine. Tickets are $12 for adults; $10 for children 12 and under and Senior Citizens.
The Seno Center is located in Wheatland on Highway P, 1.5 miles North of Highway 50. Seating is limited to 60 people, please call 539-3222 or email senocenter@senocenter.org for tickets.