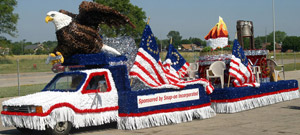 The Progress Days Parade Committee would like to extend an invitation to you to be in its parade.
This year will be the festival's 42nd year. The date is July 10. The theme for this year is: Bristol: United We Stand 2011!
The parade starting time is 12:30 p.m.  and organizers hope to have you in line by noon. There is no fee for registering. You will be instructed as to your line-up position and where to go, closer to parade time. Please provide your own vehicle and signs.
Also, please remember that there are to be no campaign signs or campaigning of any kind allowed in the parade.
Keep in mind that letting organizers know you want to participate is not registering. There will be information sent to you beforehand on where to meet up to register on the day of the parade itself.
Please contact Lisa Wadin, Bristol Progress Days Parade chairman  and secretary, at 857-3099 or LWadin@wi.rr.com.