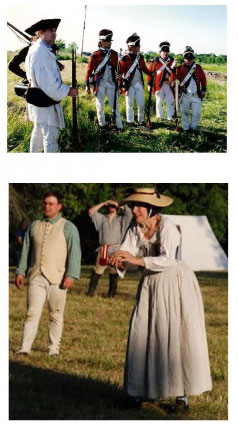 Rebels and Redcoats on the Fox, a Revolutionary War re-enactment will be coming to Fox River County Park on July 9 and 10.
The event is open to the public. Hours on Saturday will be 10 a.m. to 5 p.m. and on Sunday from 10 a.m. to 4 p.m.
The re-enactment will include various demonstrations and shows including: Morning Formation/Colors; Tea Protest, Artillery Demonstration, Skirmish, Band of Music, Military Skits, Military Fashion Show, Civilian Fashion Show, Tomahawk Competition, Artillery Demonstration, Battle and more. A full schedule is available here.
The event is being sponsored by Community State Bank and Kenosha County Parks.
The park is located south of Highway F just west of Silver Lake.