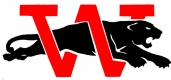 The Wilmot Union High School softball team ended the state tournament as runner up.
On Friday, Wilmot defeated Bradford High School from Kenosha 4 to 3.
In Saturday's championship game, the Panthers lost to Stevens Point 2 to 1.
Here's a gallery of photos from Saturday.
This is the second consecutive year the team has made it to the state tournament.