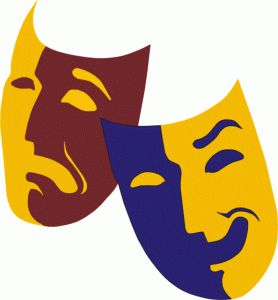 "Delores Dogan" is back!
Written by Courtney Shaughnessy of Ingleside, Illinois, Delores Dogan is a young woman's coming-of-age story as she documents it in her diary while lying on her bed at three times in her life: in eighth grade, as a senior in high school, and as a senior in college. Told in a frank and hilarious fashion, Delores confronts issues that all young women face: adolescence, body image, peer pressure, and dating. From these trials and tribulations, Delores learns to accept herself, fights back, and triumphs!
And boy, does Delores have some trials! In real life!
Back in July of 2009, this play was scheduled to be performed in Kenosha at the Rhode Center for the Arts. Courtney Shaughnessy would finally get to star in her own semi-autobiographical work. Then, at the last rehearsal before opening night, Courtney jumped up and fell on stage – as the script calls for – only this time, she tore her Achilles tendon. The show was cancelled and Courtney was layed up for four months.
The producers of the play, Steve Brown and Mike Ullstrup of Salem, Wisconsin, vowed that the play would be staged. Says Mike, "I just plain believe in this play! First of all, it is funny as heck. But too, it's a story about all those awkward times and first-moments of adolescence which – looking back – make us laugh and cringe all at the same time. Delores is a young woman who feels she doesn't quite fit in yet she gets past it all and wins. You just cheer for her at the end."
Of course, it wouldn't be a production of "Delores Dogan" without at least one bump in the road. Courtney cannot star in it just yet! The demands of her day job come first. "I was so disappointed that my schedule just hasn't allowed me to be in a few performances. But like Delores, I will get there soon enough!"
Teresa Meyers of Racine has instead taken on the role of Delores. "I was thrilled to be cast! I loved this play two years ago and now I get to star in it!" Terry is an accomplished local actor whose many performances include, "The Crucible" at the Racine Theater Guild, "Emily" at Waukesha Civic Theater, and "Steel Magnolias" with Lakeside Players in Kenosha, Wisconsin. "Delores Dogan" is Terry's debut with BrownUllstrup Productions.
"We have quite a team built around this play for a fun, summer run," added Terry Lawler of Kenosha who once again directs the play. "It was such a disappointment to cancel a couple years ago that it feels so good to get this going again!" Terry Lawler is well-known in the Kenosha area for both acting and directing with Lakeside Players at the Rhode and in the WGTD Radio Theater.
Rounding out "Team Delores" is the crew of Viki DuMez of Pleasant Prairie, Andrew Potter of Racine, and Jordan Moffat of Salem. The recorded voices are from Kelly Sheehan (Courtney's real-life sister) of Antioch, Illinois, Jon Kotloski (Courtney's husband), Viki DuMez, and Cameron Spencer of Kenosha.
Just back from New York State where they premiered their own play, "A Fireside Chat: Conversation with FDR" at the Roosevelt Presidential Library and at the Cuneen-Hacket Theater in Poughkeepsie, local stage and radio play producers Brown and Ullstrup have been busy. Says Brown, "Busy is a good thing! We have performances of Delores set to go in Waukegan and Kenosha, we will soon be announcing a venue in Racine and are in discussions with colleges through northeast Illinois and southeast Wisconsin. And stay tuned for announcements about FDR!"
"Delores Dogan" will be performed in Waukegan, Illinois at the Clockwise Theater, at 221 North Genesee Street, on Friday, June 24th and Saturday, June 25th at 7:30 p.m. and on Sunday, June 26th at 2:00 p.m. The play will be presented at the Rhode Center for the Arts, at 514 – 56th Street, on Friday, July 29th and Saturday, July 30th at 7:30 p.m. and on Sunday, July 31st at 2:00 p.m. Tickets are $15.
Go to www.BrownUllstrup.com for more information about this show and to make sure you get advanced tickets. Contact Mike Ullstrup at (847) 721-1548 about group rates and special promotions.