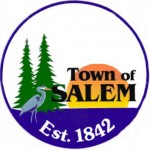 The pictures examined by the Salem Town Board Monday night painted a grim outcome for Roland Alber, 9949 272nd Avenue. An order to raze the dilapidated home he has owned for more than 20 years was a blow to the unassuming man, who has suffered much hardship.
Salem Building Inspector, Jack Rowland issued the raze order, upon deeming the structure unsafe. According to the notice, the cost of repairs to the house and outbuildings would exceed 50% of the assessed value of the house and outbuildings divided by the ratio of its assessed value. Five years of back taxes are also owed.
If approved by the board, Alber would have 30 days to remove the house and outbuildings or charged the costs of removal by the Town.
Accompanied by a few close friends, Alber explained some of the hardships he has endured the past couple of years, including an auto accident that left him disabled and unable to work. Until recently, the former auto mechanic has survived by selling scrap metal, antique cars, and living with nearby friends, Victoria Siciliano and her fiancé Robert Johnston, while he awaits disability income.
"I have had a lot of hardships since October 2009 and I don't want to lose my home," he said, shoulders hunched. "It is totally paid for, and I can fix it up myself; my hand is better—and it isn't as hard as auto repair. I will be getting money soon every month and will be able to pay on my back taxes and work on fixing up the house. If I lose my house, I am homeless with my three dogs and my cats."
Although Rowland acknowledges the serious state of the property, he performed a walk-through of the home on Monday at Alber's invitation and noticed several efforts to restore the structure.
"He began shoring up the roof and started to fix it," he said. "He has jacked the wall back up and it is somewhat plumb."
Board members seemed touched by Alber's story, efforts and the generosity of Siciliano and Johnston-both members of the construction union; who promised a crew of volunteers to help rebuild the home.
The Board unanimously agreed to postpone the raze order until November if Alber agrees to bring a statement from the County Clerk acknowledging payment arrangements for his back taxes. He will also be required to provide monthly updates to Rowland and work out a plan for occupancy.