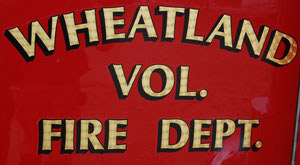 The 42nd Annual Town of Wheatland Fire Department Festival will take place June 24-26 at New Munster Park.
There will be plenty of activities for all ages. This year plans call for even more games and events for the younger kids including a kids day on Saturday June 25 with a kids show and Flight for Life.
As always, the festival will have great food, live music and sports. Businessmen water fights will be on Saturday and and fire fighter water fights on Sunday.
Here's a full schedule:
Friday, June 24  — 6 p.m., Softball starts; 8 p.m., DJ Good Times Entertainment; 9 p.m., Live Music by Pat McCurdy with DJ Good Times Entertainment to follow
Saturday, June 25 — 10 a.m., Softball starts. 10 a.m. Baggo Tournament; 1 p.m., parade (Rain or Shine); 1:30 p.m., Businessman's Water Fights; 1:30 p.m., Kids are People Too Water Works Show; 2 p.m., Flight for Life Demo; 9 p.m., New Dog Trick
Sunday, June 26 — 10 a.m., Softball starts; 10 a.m., Baggo Tournament; 2:30 p.m., Firemen's Water Fights.
If you are interested in having a float, marching unit, or some other type of vehicle in the parade, please contact Paul DeLuisa at 210-3696.
The Baggo Tournament will take place rain or shine, double elimination on June 25 and 26. Entry fee is $15 per person includes one drink and one food ticket. Cash payout for first to fourth places. Sign up before June 22 at Ray's Change of Pace,  B&Ds , Dave's Saloon, Local Folks, Wheatland Town Hall or contact Mark Willkomm at 262-206-3017 or Brian Kerkman at 262-206-1368.