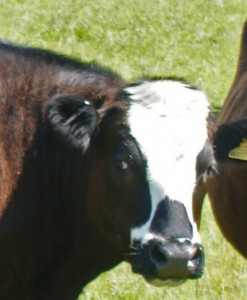 Barb and Don Waldron will host a pot luck dinner and twilight pasture walk on their 53 acre certified organic farm located 12 miles west of Franksville. They practice managed rotational grazing to provide forage for their beef herd, supply the herd's winter feed and also raise chickens, turkeys, and "you pick" raspberries & strawberries. Their beef herd consists of 6 cows and their offspring which are grazed using managed intensive grazing on 10 acres of immaculate pasture. The Waldron's direct market their custom beef.
This informative pasture walk will focus on the following topics:
Planning strategies used to fully utilize 100 percent of a small acreage farm land base.
Grass and legume species identification and what species would be appropriate on your farm.
If you are a farmer interested in managed rotational grazing or small acreage farm management don't miss this event. There will be lots of opportunity for questions, networking with existing graziers, and good conversation, so mark the date and be sure to attend.
Registration: There is no fee to attend this event — which is open to Kenosha County residents — but please do register by June 17. To register contact Kirsten Jurcek, Grazing Education Specialist, Town & Country RC&D at (920) 342-9504 or kjurcek1@centurytel.net.
Directions: WCC Farm is located on 7 Mile Road, ½ mile west of Highway 45 or 6 ½ miles west of I-94, in Racine County WI.
This event is being sponsored by the WCC Farm, Racine County UW Cooperative Extension, and Town & Country RC&D with funds from the Grazing Lands Conservation Initiative Program (GLCI) and the Wisconsin Department of Agriculture, Trade and Consumer Protection.
UW-Cooperative Extension provides equal opportunities in employment and programming including Title IX and ADA. To ensure equal access, please make requests for reasonable accommodations to any of the above.