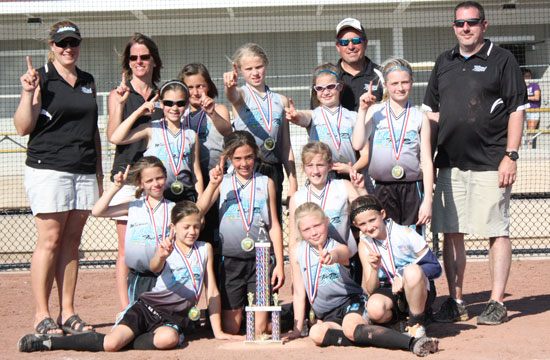 Wisconsin Lightning Fastpitch 10U team won first place at the Northern Ice Memorial Day Classic Tournament this past weekend in Wauconda, Ill.
Lightning beat St. Charles Comets, McHenry Jr Warriors, and Northern Ice to make it to the Championship game. They beat Northern Ice 6-0 in the Championship game to take first place and bring home the gold. They had played with only nine  players all weekend long due to a broken collar bone by the starting shortstop, Riley Alexander and another girl moving out of state.
Team members are: Sydney Helmuth, Jania Westphal, Riley Alexander, Haley Lamberson, Montana Platts, Abby Hayden, Sydney Grossi, Bridi Allen, Siera Sieberth, Hannah Brendel and Josie Klein. Coaches  are Cheryl Sieberth, Karen Lamberson, Lance Platts and Todd Hayden.
The team has played in  three tournaments this spring and placed second, then third and now first.