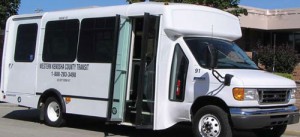 Randall town Supervisor Bob Gehring proposed at Thursday's regular Town Board meeting that the town consider recouping some of the costs for storing two Western Kenosha County Transit buses in a town-owned building.
"I'd still like to see a little money (from the transit system) toward storage, electricity … and we do pay insurance on the building," Gerhing said.
Timing is critical, Gehring contends, because he does not expect the grant funding that pays most of the freight for the bus service to continue to be available.
Town Chairman Robert Stoll pointed out that by storing the buses in Randall instead of costs and service time is saved by the bus system. He also disputed whether the cost is very significant to the town, given that the old fire station where the buses are parked would likely still have to be heated and insured regardless of whether the buses were there.
"I don't think out true cost is that great for having the bus there," Stoll said.
Gerhing's position did appear to have some support from Supevisor Randy Kaskin, who contended that while all Western Kenosha County residents benefit from the buses, Randall and Twin Lakes — which also houses one bus — pay more by sheltering the vehicles.
"Are we just being generous?" Kaskin asked.
In the end, Gehring did not make a motion for any action to be taken, but said he would bring the matter up again in a few months after board members have had a chance to consider the issue.