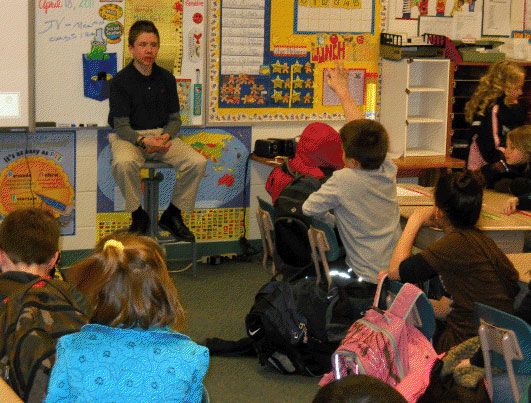 Shane McNealy, an eighth grade student at Wheatland Center School, spoke to Brenda Ciancio's second grade class regarding autism, in recognition of April being Autism Awareness Month.
Shane was diagnosed with Asperger's Syndrome, a form of autism, when he was 2. He spoke to all the students in the guidance and health classes because he wanted to make students more aware of what autism is, and how important it is to understand and celebrate people's differences.
Shane described how having Asperger's has been a struggle at times. He explained that the cause is most likely hereditary and that making friends, joining social groups, and sustaining eye contact is difficult, but having his senses heightened and being musically talented is a positive side of the syndrome.
Most of the students didn't know what Asperger's was before Shane's presentation, but thought his sharing of his personal story describing the struggles as well as the accomplishments was very informative and definitely courageous.