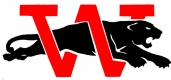 Wilmot Union High School will hold its annual Senior Awards Night on May 23, in the Lance G. Haas Center for Performing Arts at the school.
A reception will begin at 6:30 p.m. in the School Commons with the program starting promptly at 7 p.m.
The public is invited to attend this program recognizing the academic accomplishments of the Wilmot Union High School Class of 2011.