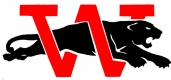 On Wednesday, April 6, Wilmot Union High School Head Boys Basketball Coach Terry Bruton celebrated the 2010/2011 season at the year-end banquet by presenting seniors Jay Christian and Ty Singleton with the Most Valuable Player award along with acknowledging Christian, Singleton and Travis Ketterhagen, as the graduating senior captains.
Christian was also recognized for his receipt of a Second Team Southern Lakes All-Conference award along with junior Chris Nelson for receiving a Conference Honorable Mention. Both conference nominations are chosen by votes from the Southern Lake Conference boy's basketball coaching staff. Matt Betz was recognized by the Kenosha News as All Area Team Honorable Mention.
Coach Terry Bruton looks ahead to the 2011 summer opportunities for the boy basketball players, which include participating in the Carroll College Basketball league, a June tournament at Shoreland Lutheran High School and an opportunity to participate in the Wisconsin Basketball Coaches Association tournament at the end of July.
The Wilmot Boys Basketball team expects to build on the momentum of their 2010/2011, five game Conference winning season, an accomplishment last achieved in 2002. Coach Bruton and his staff are enthusiastically looking forward to the 2011/2012 boys basketball season.
The Wilmot Board of Education commends Coach Bruton's performance and supports the proposed 2011/2012 program of activities.