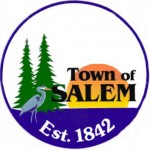 At 9:22 p.m., incomplete unofficial results for the Salem town chairman race show Diann Tesar with 393 votes and incumbent Linda Valentine with 196 votes.
These totals are with two of two polling places reporting some results.
UPDATE 9:25 p.m. — Latest results show Tesar with 667 and Valentine with 374.
UPDATE 10:05 p.m. — Latest results still show Tesar with two to one lead: Tesar 1,425 to Valentine's 777.
UPDATE — As of Wednesday morning,  final unofficial returns from town clerk show Tesar 1,426 and Valentine 777.