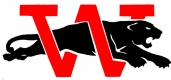 The Wilmot Union High School Board of Education has approved a proclamation presented by the "Wilmot Union High School Take Down Club" and the "Stateline Wildcats Wrestling Club" to name the upper gymnasium the "John M. Watson Wrestling Center".
Watson has served 21 years as Wilmot head wrestling coach. During that time, he has accumulated 21 Wisconsin state placed winners and three Wisconsin state champions. He was awarded a plaque in honor of this recognition by two of his previous state champions at the annual wrestling award banquet.
Watson is a social sciences instructor at Wilmot .