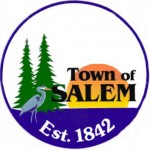 The Salem Town Board seemed content with current practices on salary and mileage reimbursement for its members at Monday's regular monthly meeting.
Both practices were raised for discussion by town Chairman Linda Valentine.
Regarding salaries, Valentine pointed out that no adjustment in Town Board members salaries was made when Patrick Casey — the town's first administrator — was hired about two years ago.
"There was no change in supervisor salaries," Valentine said. "Maybe there should have been."
But other board members defended the current salary. When Valentine asked Supervisor Dennis Faber what he thought of his salary Faber replied "I don't think it's been enough the last two years."
Valentine was elected chairman in 2009.
Supervisors make $7,500 a year. The chairman's salary is $15,000 a year.
Valentine brought up mileage shortly after, saying she did not feel it was appropriate to claim mileage for in-town travel. She also said she objected to a recent mileage claim for $245 by Supervisor  Joseph Meier.
Meier, a supervisor since the mid 1980s, said he never used to claim in-town mileage, but was told by an earlier town clerk that others on the board did. He started doing so, using more of an estimate of miles and usually coming up with about $180 a year.
But, Meier explained, after Valentine complained about his report he began tracking mileage more precisely. The result was his claim was higher — $245 for last year.
"So I thank you," Meier said to Valentine.
Other supervisors said they supported the practice, even if they didn't follow it.
"If you're doing town work, you're doing town work," said Supervisor Patrick O'Connell, who added he does not claim mileage.
Said Supervisor Dennis Faber: "I don't see a big problem with this. I don't think the citizens would." Faber also said he does not routinely claim mileage.