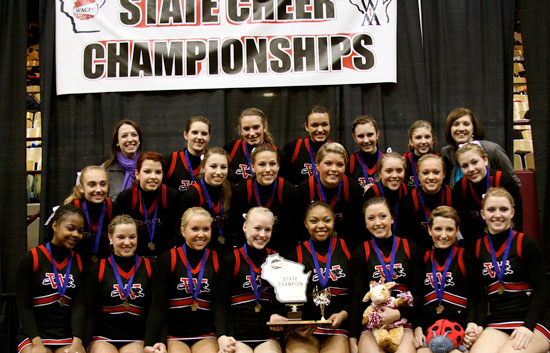 The Wilmot Cheerleaders took first place at the State Cheer Championship on Feb. 26,  in Green Bay.
It has been a spectacular year for the program. This is the first year that the team has won the "trifecta" taking 1st at Conference, Regionals, and State as well as receiving their first ever bid to the UCA Nationals competition in Orlando.
Wilmot has been the Conference and State Champions for the past three consecutive years.
The team and coaches would like to thank all of their family and friends that traveled around the state and nation this year supporting them. They couldn't have done it without all of the love, support and dedication.
The Wilmot Cheer team consists of:
Seniors: Hilary Clark, Brianna Daniel, Julie Ericson, Carol Kessel, Alyse Page, Stephanie Zeczkowski.
Juniors: Kayla Croswhite, Reann Dvorscek, Chloe Epping, Raven Kaelber, Taylor lear, Marina Rebellato, Kristi Rodgers.
Sophomores: Jessica LeMay, Ashley Schwarz.
Freshmen: Constance Carlson, Katie Dvorscek, Rebecca Fluger, Morgan Haley, Jessica Spahn, Quianna Young.
Coaches: Jenni Miller and Mandi Kula