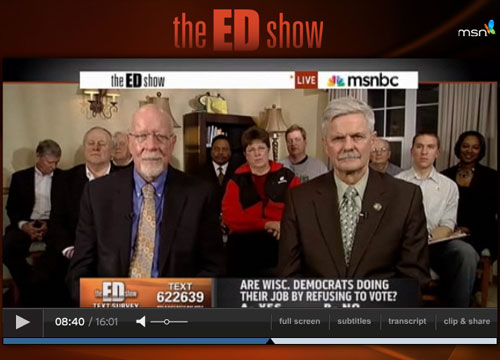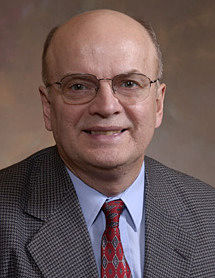 The location of all 14 Democratic state senators continues to be "undisclosed" Friday morning.
But if anyone was concerned that the Kenosha County's senator, Bob Wirch, might be holing up somewhere along, relax. I'm pretty sure that's the Pleasant Prairie Democrat toward the back there in this screenshot (below) of an interview aired last night on MSNBC's The Ed Show (look just over the shoulder of  Sen. Mark Miller, who is in the foreground right).
The Senate Democratic caucus left town — and apparently even the state — yesterday in order to prevent a quorum for a vote on Gov. Scott Walker's budget repair proposal that includes limiting public employee's collective bargaining power to salary only. Latest word is that the governor has the state police looking for the Dem. senators. If found they could be compelled to report for a vote. If all Republicans are present, only one Democrat would need to be present to conduct a vote.