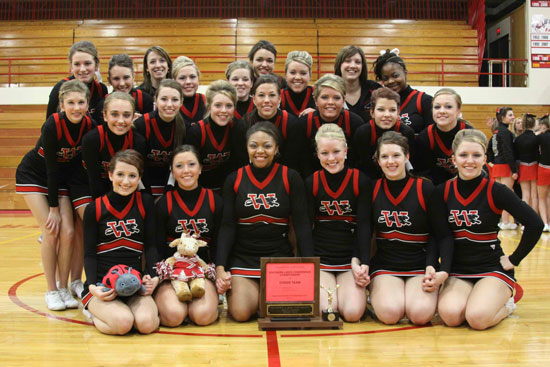 The Wilmot cheerleading squad is off to a national competition with national media exposure this weekend in Orlando.
The squad will be competing for the first time in the Universal Cheerleaders Association 2011 National High School Cheerleading Championship.
Wilmot has been to national competitions before. But what makes this one special is that the team had to compete their way in, Wilmot Coach Mandi Kula explained. They did that by winning the UCA Milwaukee Regional Competition in November.
Only seven teams from Wisconsin will make the trip to the National Competition this weekend.
The National High School Cheerleading Championship is held at the Walt Disney World® Resort in Orlando, and nationally televised on ESPN and ESPN2 to over 100 million homes and 32 countries nationwide each year, according to the Universal Cheerleaders Association website.
Coverage note: We expect to have some updates and photos from the competition. Check back.