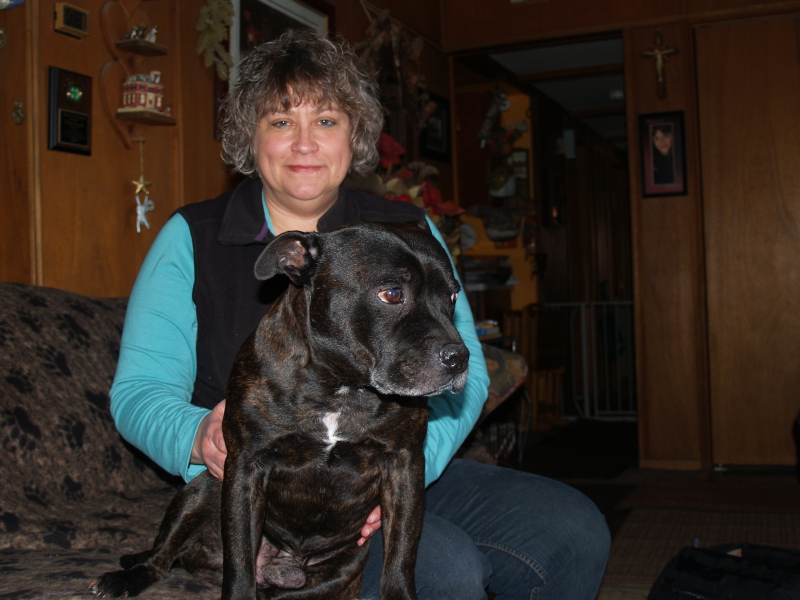 When Andy witnessed the devastation in the tiny girl's demeanor, he stood by her side, allowing her to hug him and cry into his broad shoulders over the recent loss of her mother. His countenance and apparent empathy can lift the lowest of spirits, and because of his effect on grieving children, is the most asked for facilitator at MargaretAnn's Place, a child grief center in Kenosha.
To many, Andy is a hero who enjoys visiting the sick, the elderly, and reaching out to special needs children in ways that confound the most skilled professionals.
Andy is an 11-year-old Staffordshire Bull Terrier and a Delta Society Pet Partner, who recently received word that he will be inducted into the 2011 Wisconsin Veterinary Medical Association Pet Hall of Fame in the Professional Category.
Owned by Cindy Bundy of Bristol, Andy was instrumental in healing her pain when she lost her job after working 25 years.
"My company closed and I just felt worthless and lost," she said, "But Andy showed me that there was more to life than a paycheck and that first year cemented our partnership in volunteer work."
Shortly after his first birthday, he passed the national evaluation and has served as a Delta Society Pet Partner for the past ten years. Since that time, Andy's been sought after as a Reading Education Assistance Dog, a familiar face at the Boys and Girls Club, a grief support resource for nine years, including participating at Camp Erin last summer, a nationally acclaimed grief camp for children sponsored by the Moyer Foundation.
"Andy spent the day with 50 campers providing comic relief and gentle kisses," explained Cindy. "We are looking forward to meeting next year's campers—I always tell children on our visits that dogs have five hearts. I explain to them that they have their heart on the inside, but if you turn over their paw, each foot has a pad that is shaped like a heart and that's why they have so much love."
In addition to service, Andy has participated in 4H Dog projects, was awarded the AKC Honorable Mention for Canine Excellence, an Honorable Mention to Delta Society's Beyond Limits Award, and is a champion show dog.
Andy was nominated by Westosha Veterinary Hospital for the award and will be attending an induction ceremony with Cindy on February 19, at Chula Vista Resort, Wisconsin Dells.
"I love Andy with all my heart, and can't imagine what life would have been like without him," said Cindy. "He provides a calmness that is indescribable."