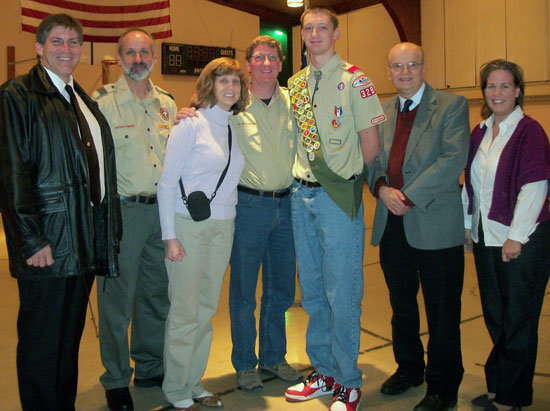 Craig Manarik of Silver Lake recently attained the rank of Eagle Scout, the highest honor recognized by the Boy Scouts of America. He is the son of John and Margaret Manarik who helped organize his Court of Honor Ceremony, which was attended by state Rep. Samantha Kerkman, state Sen. Bob Wirch, and Ross Swartz, owner of Swartz Nursery.
In addition to earning the 31 merit badges needed to become an Eagle Scout, Manarik worked with Swartz in alleviating a drainage problem at Riverview School, Silver Lake. After creating an initial landscape plan, Manarik organized volunteers and fellow members of Troop 329 in draining and cleaning existing ponds near the school, removing gravel and replacing it with top soil, adding rain barrels and burying drainpipes in the bed of the ponds to allow proper drainage.
En route to becoming an Eagle Scout, Manarik has held a number of leadership positions such as Assistant Senior Patrol Leader, Senior Patrol Leader, and Patrol Leader.
Rep. Kerkman and Sen. Wirch presented Manarik with a citation on behalf of the Wisconsin State Legislature in honor of his achievement. "I commend Craig on a job well done and wish him the very best in his future endeavors," said Rep. Kerkman. "He certainly has a bright future ahead of him."