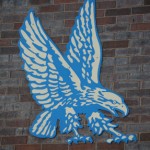 Salem School will host its third annual Salem Celebration Thursday, Jan. 27 from 6 to 8 p.m. with a theme of "We Are Family."
This event is open to the Salem School community and will celebrate "all the terrific things going on in our building," said Ben Walshire, 4k-fourth grade principal. "We will be showcasing student achievement, extra-curricular activities, and fun activities for students and families to take part in. "
Family activities planned for the night include:
Are Your Smarter than a Salem Student?
Climb the rock wall.
Tchoukball.
Cup stacking.
Make a stick person bookmark.
Mad Science.
Throw a pie in a staff member's face.
The annual — and promised to be hilarious — staff performance.
Parking on both sides of the building will be open. Those parking on the Highway 83 side should enter at the district offices entrance.
All children 17 and turned must be accompanied by a parent or guardian.
"We hope to see as many families come as possible," Walshire said.
Here's some video of the activities last year:
Here's some video of the staff performance from last year: