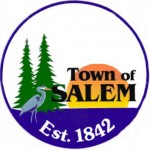 Statements from people — locals and those from out of the area — looking to fend off any effort to curtail motorcycle ice racing dominated the beginning of the Salem public hearing on the proposed Chapter 20 ordinance Wednesday night.
Chapter 20 regulates activities concerning waterways in the town.
Most of those who spoke supported the continuance of motorcycle racing on frozen lakes in the winter.
The town is considering ways to regulate the activity after receiving complaints from some local residents.
Note: I have some video of the ice racing comments, but I am at another meeting yet tonight. I will process and post it as soon as practical. Check back. — DH