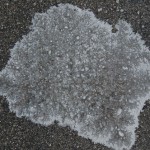 About 24 hours ago, from about 9 to 10:35 p.m., the Kenosha County Sheriff's Department and other police and fire agencies were living the statement that it doesn't have to be a blizzard for conditions to get hairy when it snows.
Here in Paddock Lake, I recorded only about an quarter of an inch of snow fall last night.
But in the time frame mentioned above, the Sheriff's Department handled five crashes with injuries and 11 crashes with just property damage on I-94, said Sgt. Bill Beth, the department's public information officer.
As hardy Wisconsin residents, we like to think we can handle the snow — and we can. But last night is a reminder that it doesn't always take much accumulation to warrant extra caution on the road.