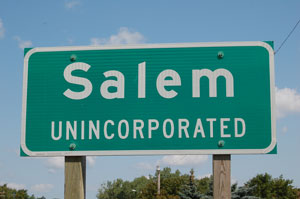 The Salem Town Board approved creating policies to govern where town supervisors, individuals and groups can engage the public at Town Hall and for allowing supervisors to add items to a meeting agenda at a special meeting at 8 a.m. this morning.
Supervisor Dennis Faber, with the support of Supervisor Joseph Meier, called the meeting. State statutes says a special meeting can be called by the town chairman or by two supervisors.
Faber said he attempted to have the items added to the agenda of a special meeting held last Tuesday, but they were not added. He then moved to call the special meeting because he felt there was urgency to see if board members wanted to create a policy immediately.
Chairman Linda Valentine, who typically sets agenda items, said Faber's items were not added to Tuesday's meeting because he did not follow proper procedure available to every town resident and that she had already vetted the agenda with other board members as having a single item to be discussed in closed session, as allowed under state law.
The board first approval was to establish a policy with regard to where supervisors are allowed to engage citizens in the Town of Salem public building during all hours. The vote was 4 to 1 with Valentine voting no.
Faber said he felt such a policy was needed after receiving complaints about Valentine sitting at a card table in the vestibule of the Town Hall in recent weeks while people have come in to pay taxes. Some of these people have told him they have felt intimidated by Valentine's presence, Faber said.
"They say, what is she doing there … how can you allow her to do that?" Faber said.
In addition, Faber and some others said they are concerned that without a policy, inappropriate electioneering can be take place within Town Hall.
After the meeting, Valentine said she has been sitting at a card table in the vestibule of Town Hall during times in which residents are coming in to pay taxes, when she does not have other commitments.
Her intent is to answer questions about tax bills or other town matters at a time when she is likely to encounter town residents, Valentine said.
She is not campaigning , she said.
The discussion about the item was lengthy, running over an hour. It include a general citizen comments sectiona dn several commetns from audience members once the first agenda item discussion was under way.
Valentine said she will continue to be available in the vestibule during tax bill season as her schedule allows.
The board acted much quicker on the second item. That motion called for the town to establish a policy allowing any supervisor to add items to any agenda.
That motion also passed 4 to 1, with Valentine dissenting.
A third resolution proposed by the agenda was not acted on because after discussion it was felt that it is already addressed by state statutes