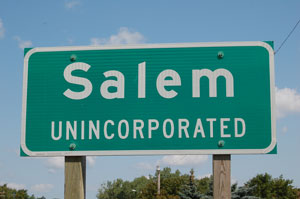 The Salem Town Board, following a closed session at a special meeting Tuesday night, voted 4 to 1 to request that Chairman Linda Valentine discontinue her Google group website Making Salem Better.
Valentine voted against the move.
Here are the draft minutes of the meeting (which were supplied by Valentine).
The site, for which people must apply for access and be approved by Valentine, has been cited as "likely a public record" by Attorney General J.B. Van Hollen.
Earlier in the evening Tuesday, the board and some staff and advisors met in closed session to discuss the case of town Clerk Cindi Ernest, who is suing the town for allegedly defaming statements made by Valentine about Ernest.
Immediately after the closed session, the board voted in open session to release information to its insurance compnay regarding the case. Valentine also voted against that action.