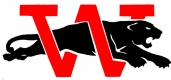 The Wilmot Union High School cheerleaders competed at the UCA Regional Competition this past weekend in Milwaukee. The team took first place in their division and for the first time in school history has received a bid to UCA Nationals in February of 2011.
Watch for this group of athletes on ESPN in the Spring.
The Wilmot Cheerleaders will be competing this upcoming Saturday at the Oak Creek Holiday Knights Competition.
The Cheerleading Team is continuing to raise funds through Schwan's Truck sales to offset the costs associated with new uniforms and competition fees.  The next Schwan's Truck sale is scheduled for Thursday, Dec. 9 from 3:30 to 7:30 p.m. at Wilmot Union High School. More details here.
Visit Wilmotcheerleading.com for more info on the squad.