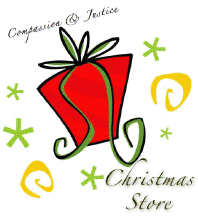 First Christian Church of Kenosha, 13022 Wilmot Road (Highway C), Bristol, is opening a "Christmas Store" on Wednesday, Dec. 1 from 6 to 8 p.m. and every Sunday from now until Christmas from  10 a.m. to 12:30 p.m.
The store will be open to everyone and will provide a unique gift giving experience to shoppers.
"It's a chance for shoppers to buy a gift for the person who has everything," says Brian Gorman, Lead Minister at FCC. "A chance to give a gift bigger than it is," Gorman continues.
Each gift item sold will directly benefit several ministries around the world. In addition to the low stress and rewarding shopping experience for FCC's congregation and the community, gifts won't only be cherished by the receiver, but a needy person or cause somewhere in the world will also benefit. Now that's Christmas spirit.
FCC's Compassion and Justice Team has selected several ministries that focus on fighting various injustices around the world. This store is one way in which they have decided to help.
"The store's mission is to not only provide some direct support to the ministries but to educate our congregation and community at large on these ministries and their mission," Kaet Johnson, a member of the Christmas Store team said. One example: Buy a pair of shoes and TOMS Shoes puts a pair of shoes on a child in need. In developing countries the leading cause of disease are soil transmitted diseases. They are absorbed through the soles of the feet. Many schools in these countries require uniforms and without shoes students can be excluded from an education. When was the last time a pair of shoes as a gift could mean so much?
FCC has chosen to participate with KIVA loans for which gift certificates are available to give the gift of hope. The amount of the gift certificate is given as a loan to an entrepreneur in a developing economy or to impoverished communities here in the U.S. The recipient of the gift certificate can read bio's of qualifying entrepreneurs and choose someone they would like to sponsor.
You'll also find products from Project 7 at FCC's Christmas Store. They categorize their products by area of need. Product categories include, HEAL the sick, SAVE the Earth, HOUSE the homeless, FEED the hungry, QUENCH the thirsty, TEACH them well, and HOPE for peace. Gifts include items you may already be buying, gourmet coffee, mints, bubble gum, t-shirts, and bottled water. These stocking stuffers not only fill stockings but help the world's causes in meaningful ways.
The FCC Christmas Store accepts only cash or checks. There will be ministry liaisons available for patrons who want to know more about any of the organizations selling products at the store. In addition to TOMS Shoes, Project 7 and KIVA, FCC will be featuring products that support the following Ministries:
Charity: Water —  http://www.charitywater.org/and  http://mycharitywater.org/p/group?group_id=759.
Sex/Human Trafficking — War International, http://www.warinternational.org; Rapha House, http://www.raphahouse.org; World Crafts, http://www.worldcraftsvillage.com.
Persecuted Church/Refugees — Christian Freedom International, http://www.christianfreedom.org.
Children/Orphans — The Mentoring Project, http://www.thementoringproject.org.
Poverty/Micro Business — Kiva Micro loans, http://www.kiva.org; Project 7, http://www.project7.org; TOMS Shoes, http://www.toms.com.
First Christian Church is encouraging people in the Kenosha community to celebrate the Christmas season in its true spirit by ensuring compassion and justice be done throughout the world and asks you to join them at their Christmas Store and give gifts bigger than they are this year!
To learn more about First Christian Church you can join them for Sunday services at 9:00 or 10:30 am, or contact Brian Gorman, Lead Minister.
Store Information
Location: First Christian Church
13022 Wilmot Rd.
Kenosha, WI 53142
Store Hours:
Sunday 11/28 10 am-12:30 pm
Wednesday 12/1 6-8pm
Sunday 12/5 10 am-12:30 pm
Sunday 12/12 10 am-12:30 pm
Sunday 12/19 10 am-12:30 pm