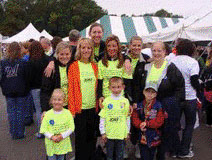 Donations to the Juvenile Diabetes Research Foundation were given by Paris School staff on behalf of Anthony, a student at Paris School. On Saturday, Sept. 18, several staff members participated in the JDRF Kohl's Walk to Cure Diabetes at the Milwaukee County Zoo.
According to jdrf.org, JDRF is the worldwide leader for research to cure type 1 diabetes. It sets the global agenda for type 1 diabetes and is the largest charitable funder and advocate of type 1 diabetes research worldwide. More than 80 percent of JDRF's expenditures directly support research and research-related education.
The Maxon family organized a team consisting of family members, school staff, and friends. In all, "Anthony's Group" raised $2,600. Even with the rainy weather the morning of the walk, there were many smiles as hundreds of people made their way through the Milwaukee County Zoo in hopes that someday a cure will be found. As the group's t-shirts stated, "Doctors they've been tryin', not even monkeys flyin', can keep us from a cure."
Staff members who donated and those who walked want to say thank you to the Maxon family for having the opportunity to be part of such an important event.