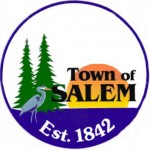 The Salem Town Board will be sending $5,000 to The Sharing Center, categorizing it as a purchase of services rather than a donation in order to wiggle through a legal loophole about donations that came to light at the regular monthly Town Board meeting.
Lynn Biese, The Sharing Center executive director, made the appeal for the funds to help close a $15,000 shortfall the agency anticipates for the current year.

Biese said she will be visiting each Western Kenosha County municipality to ask for funding to address the shortfall. As Salem addresses represent 59 percent of the center's clientele, the town was asked for the largest donation. Each oif the other municipalities will be asked to donate $1,500.
The Sharing Center is a Paddock Lake-based relief agency providing food and other emergency and support services.
Biese presented some grim facts and figures to illustrate the worsening state of the local economy and consequently increased needs for the center's services:
The center serves about 300 families a month.
Demand for the center's services has increased about 600 percent over the last three years.
The center starts about 25 new families as clients each month.
While demand for services is up, donations are down.
Local municipalities have not been solicited by the center for support in the past. However, such support is important to be able to show the state and foundations when the center seeks funding, Biese said.
Earlier in the meeting, the board learned from its legal counsel that donations to charities should be approved by the electors at town meetings. However, town administrator Patrick Casey suggested that the town could purchase services on behalf of its citizens from such group with board approval.
The board voted to give $500 to the Twin Lakes Area Senior Citizens also as a purchase of services at the same meeting. It is believed about 50 residents regularly use that center's services.