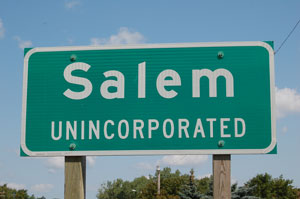 A Salem town tax levy for 2011 the same as 2010 overwhelmingly passed at a special meeting of electors Thursday night.
The 2011 levy is $3,419,470. In 2010, it was $3,419,500.
From a preliminary budget that would have seen the tax levy increase 19 percent, the board trimmed $271,500 to come up with a levy equal to last year's. This includes paying for the first year of  debt service for the new Highway Department/Trevor Fire Station building.
Here's a list of the cuts and additions made to revenues that got the town to the magic number.
The budget upon which the levy was based passed the Town Board by a 4 to 1 vote at a special Town Board meeting held after the electors meeting. Chairman Linda Valentine voted against it.
Though the levy amount is the same, the effect on your property taxes would depend on any changes in your property value and other factors.