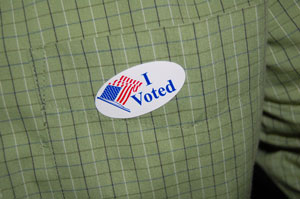 It's Election Day today, so work some time to vote into your daily schedule. Polls will be open from 7 a.m. to 8 p.m.
Being decided today:
U.S. Senate — Incumbent Russ Feingold faces a challenge from Republican Ron Johnson.
U.S. Congress — The First Congressional District has a contested race pitting incumbent Republican Paul Ryan and Democratic challenger John Heckenlively.
State executive offices — State executive offices will be decided. Running for governor are Democrat Tom Barrett and Republican Scott Walker. Incumbent Democrat Jim Doyle is not running for re-election.
State legislative offices — There are races in both Assembly seats of local interest. In the 66th Assembly district, incumbent Republican Samantha Kerkman faces a challenge from challenger Democrat Steve Brown. The 66th covers most of Western Kenosha County. In the 32nd Assembly district, which includes Wheatland, incumbent Republicna Tom Lothian is not running for re-election. Looking to fill the seat are Republican Tyler August and Democrat Doug Harrod.
Many Western Kenosha County municipalities also will have a referendum on the ballot that will ask voters if they support new taxes to support mass transit or rail services. All West of the I municipalities except Brighton and Paris will have the referendum on the ballot.
Note: Wondering who won? Check westofthei.com for the latest in available election results.