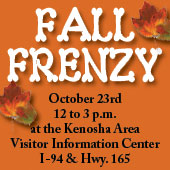 The Kenosha Area Convention & Visitors Bureau is throwing open the doors of its I-94 Visitor Information Center and inviting the public to a party.
Fall Frenzy takes place Saturday, Oct. 23 from noon to 3 p.m. This is a free, family-friendly fall event. Residents and visitors alike are invited to enjoy booths by local attractions, restaurants, and other businesses. There will also be Kenosha Area mascot appearances, trick-or-treat for kids in costume, and prize drawings.
Monkey Joe's, Mangia Trattoria, Lakeside Players, Holiday Inn Express, and more Kenosha Area businesses will be present. Among the mascots appearing are Woolly the Mammoth, Monkey Joe, and Scoopie (Culver's of Pleasant Prairie). There will be a mascot race at 1 p.m. with Mr. Jelly Belly serving as a celebrity judge.
It was one year ago this November that the KACVB opened a second Visitor Information Center. The center opened at the I-94 & Highway 165 rest stop, which was formerly staffed by the Wisconsin Department of Tourism. This location, Wisconsin's largest, serves as the gateway to Wisconsin for countless Illinois travelers and provides an ideal opportunity for the KACVB to promote the Kenosha Area to thousands more potential visitors each year.
Even in this technology age, travelers appreciate the one-on-one travel assistance that they receive at the Center. Friendly, knowledgeable staff members provide directions, road construction and weather information, and advice on accommodations, events, attractions and activities in the Kenosha Area. Select publications from other Wisconsin destinations, as well as Wisconsin Department of Tourism travel brochures and state highway maps are also available. Public restrooms, a picnic area and pet walking area, as well as convenient parking are offered.
Last month alone, KACVB staff assisted travelers from 49 states and numerous countries, including Germany, Switzerland, United Kingdom, Canada, Lithuania, France, Japan, Nigeria, and Poland. Inquiries were made about such Kenosha Area attractions as Jelly Belly Center, Civil War Museum, Southport Lighthouse, Electric Streetcar, Bristol Renaissance Faire, Pleasant Prairie Premium Outlets, and many more.
The I-94 Visitor Information Center is located at the southeast corner of I-94 and Hwy. 165, at 10519 – 120th Ave. (Exit 347). The KACVB also has a Visitor Information Center located at 812 – 56th Street in Downtown Kenosha. The non-profit organization was established in 1986 to increase visitor appreciation of and spending in Kenosha County, thus improving the economy of the region. In 2009, travelers spent an estimated $221.2 million in Kenosha County.
For more Fall Frenzy details, call the I-94 Center at (262) 857-7164 or the Downtown Center at (262) 654-7307 or (800) 654-7309. For more information about attractions, events, shopping, dining, lodging, recreation opportunities and more in the Kenosha Area, visit www.kenoshacvb.com. Follow the bureau on Twitter and "Like" the bureau on Facebook to receive updates about events, specials, and more.
Mascots Appearing:
· Woolly the Mammoth, Kenosha Public Museum
· Old Abe the Eagle, Civil War Museum
· TyRex the Tyrannosaurus Rex, Dinosaur Discovery Museum
· Scoopie, Culvers of Pleasant Prairie
· Torchie, Carthage College
· Ranger Bear, UW-Parkside
· Monkey Joe, Monkey Joe's
· Mr. Jelly Belly, Jelly Belly Candy Company
Businesses Appearing:
· Holiday Inn Express
· Actor's Craft
· Mangia Trattoria
· Monkey Joe's
· Trolley Dogs
· Rhode Center for the Arts/Lakeside Players
· House of Gerhard
· And more!
Special Attractions:
· Candy for Kids in Costume
· 1:00 Mascot Race
· Prize Drawings
· Make Your Own Kenosha Commercial with Actor's Craft