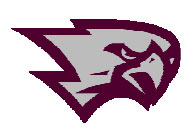 After a spirited start on the night the Falcon Athletic Stadium was dedicated, the Elks of Elkhorn staged a second half comeback victory over the Falcons.
Central took an early lead on their first drive, 6-0 following a 36 yard strike from Austin Damaschke to Jason Castona, Damaschke scored from 1 yard out. The Falcons lead jumped to a 14-0 lead on another connection from Damaschke to Castona this one covered 68 yards for a touchdown, with Damaschke running for the 2 point conversion. Elkhorn stormed back with a pair of touchdowns to even the score at 14, the second score coming after the Falcons went for it on 4th and 1 on their own 36 and were stopped short. The Falcons came back and scored 10 points late in the second period, coming on a 27 yard field goal by Tyler Schoenke. On the ensuing kick off, the Elks did not cover the short kick, and the ball was recovered by the Falcons. Austin Damaschke scored on a 35 yard scamper to finish their scoring. Elkhorn came out determined in the third period and tightened the score 24-21. With 8:53 left in the game Elkhorn scored the final touchdown and the Falcons failed to tie the game late on a field goal attempt with 53 seconds remaining.
Elkhorn moves to 4-0 on the season and the Falcons fall to 2-2.
Here's some video from late in the first half:
Note: Dave will have photos of the action Saturday. Check back! — DH