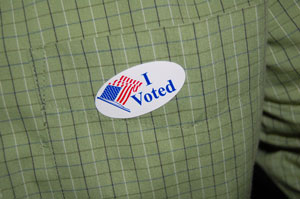 One of the few contested partisan primaries of local interest today was on the Republican side for 32nd Assembly District, the seat currently held by the retiring Republican Tom Lothian. The district includes Wheatland.
Walworth County results in the race are:
Adam Gibbs 1384
Mel Nieuwenhuis 1258
Dan Necci 997
Tyler August 1395
John K Finley 257
Thomas E Stelling 296
Incomplete Kenosha County results as of 10:26 p.m. are:
Dan Necci 107.
Thomas E Stelling 89.
Tyler August 67.
Adam Gibbs 58.
Mel Nieuwenhuis 27.
John K Finley 19.
Write-in 70 1.
That would put Tyler August in first with 1,462 votes followed closely by Adam Gibbs with 1,442.
UPDATE 11:09 p.m. — With additional Walworth County results now in, Gibbs has edged ahead of August 1,761 to 1,757. That appears to be the final unofficial result.