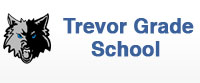 A groundbreaking ceremony for the new addition at Trevor Grade School will be held Tuesday, Sept. 7 at 6:15 p.m.
The ceremony will begin in the school gym, said district administrator George Steffen. Refreshments will be served after the program.
The $11.3 million addition project was the subject of a referendum a year ago. The referendum passed 231 to 219.
The project, when completed, will add enough classroom and other facility space to allow the Trevor-Wilmot School District to close its Wilmot building, which currently houses 4k through second grade pupils.
Construction at the site began with site work in early August.